Article by Valerie Clark
Photography by Valerie & Dennis Clark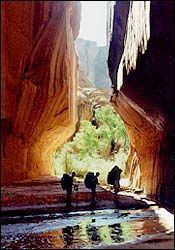 Getting Information About The Hike
This is a famous and popular hike in the Paria Canyon-Vermillion Cliffs Wilderness. It is approximately 38 miles long and can take between three and six days. The hike is so beautiful that most people recommend at least 4 or 5 days. The special attractions are the high, sculpted red-rock walls in Paria Canyon, and, if you choose to add it, Buckskin Gulch.
Buckskin Gulch is a superlative narrows hike that ends in a confluence with Paria Canyon. It has been called the premier narrows hike on the Colorado Plateau, while another guide book claims it is the longest continually narrow canyon hike in the world.
This hike is detailed in almost every Utah guidebook. The most detailed that I know of is in Ron Adkison's Hiking Grand Staircase Escalante and the Glen Canyon Region (Falcon,1998).
But the best sources of current and varied information are:
The BLM website for the Paria area is excellent. It has all the information you need, and in addition the mandatory permits are available here online: http://paria.az.blm.gov/index2.html
Permits are necessary. We got ours for May in January to be sure we had our choice of days. Only 20 people per day are allowed to enter the canyon from all three trailheads. Fees are $5/day per person. There is a minimal service charge when you order online. Your permit is mailed to you promptly, along with parking vouchers. The parking lot at Lees Ferry is in a safe, public spot. Your vechicle should be fine waiting for you there.
Use a web browser and type in "Buckskin Gulch" and/or "Paria Canyon hike" and you'll get a multitude of first person reports and pictures. Reading a variety of these gives you an excellent feel for conditions and scenery. Here are a few links:
· http://www.americansouthwest.net/
· http://www.mysteriousplaces.com/GulchTour.html
· http://www.utahtrails.com/Buckskin_Gulch.html
Order the Paria brochure ($10 including shipping) from the Arizona Strip Interpretative Association (435-688-3246). This small pocket brochure has maps showing campsites, springs, and special attractions plus describes geology, flora and fauna, history of the area.
Because information about this hike is so easy to get, I won't repeat what you can find elsewhere. But I would like to make suggestions that might make your experience easier.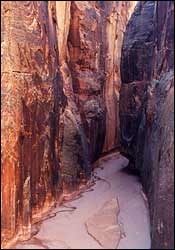 Getting To The Trailhead
There are three trailheads you can use to hike Paria Canyon:
1) White House (skips Buckskin Gulch) is a straightforward hike down Paria Canyon
2) Buckskin Gulch (longer by several miles than the Wire Pass shortcut). This trailhead starts when the Buckskin is really just a "gulch" and follows it to the confluence with the Paria.
3) Wire Pass (a wonderful "shortcut" that is even narrower than the Buckskin. This trailhead starts in a wash but very quickly becomes a slot that empties (after about a mile and a half) into the Buckskin which you then follow to the Paria confluence.
Recommendation: Take Wire Pass. No contest. Just do it.
You either need to spot a car at your trailhead of choice and at Lee's Ferry, or drive to Lee's Ferry and hire a shuttle driver to deposit you at the trailhead. Then you walk back to your car. If you're coming from very far away, it seems much simpler and more convenient to hire a shuttle driver. Officially registered drivers are on the Paria website.
Recommendation: Choose Betty Price. She is efficient, friendly, and a fountain of information about the area. During the entire trip in her comfortable Ford Expedition she told us about other possible hikes, history of the area, interesting facts about formations, stories of other hikers, updates on current conditions, and was a delightful conversationalist. The fee is $110 and we thought it well worth the price. The road to Wire Pass trailhead isn't even marked. So be sure if you don't hire a shuttle, that you know where you're going. You can stop by the ranger station at White House on your way to Wire Pass and read the board for current weather conditions and water levels in the Buckskin. This is the most accurate and up-to-date source for this information.
When Should You Go On Your Hike?
Go in April or May just like everybody recommends.
It's not any more crowded than any other time. The permit system allows only 20 people per day into the canyon from all three trailheads. We saw other hikers only now and then. We never camped with or near anyone.
The days are long enough that you have time to get through the Buckskin, and you have long, lovely evenings to hike in if it's too hot during the day.
The flowers, including the cacti, are blooming.
The frogs and toads call all night.
The cottonwoods and box elder maples are an electric spring green.
It's not too hot yet.
The bugs aren't out yet.
The flashflood danger is at the lowest of the year and the pools in the Buckskin should be down.
The springs are all still running.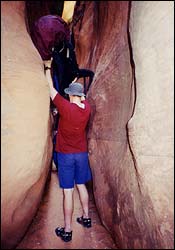 Hiking Through Buckskin Gulch
Hiking guides and the website describe Buckskin Gulch as for very experienced hikers only and warn you about the cold deep pools of water, the difficult walking, and the boulder jam near the end. And of course they warn about flooding. From Wire Pass to the confluence with the Paria is just over 13 miles. To an experienced hiker 13 miles of level walking doesn't seem so bad. Yet it took us almost 12 hours to get through Buckskin Gulch. Why would it take that much time?
Buckskin Gulch is so amazing, so narrow, so sculpted, so beautiful, so long, that you need time to gawk, take pictures, point things out to each other, and just stand amazed. Give yourself as much time as possible.
Some of the walking is on soft sand, much of it is cobbled with rocks from pebbles to plate size. You can't just stride ahead. You need to step carefully. Some of it is through pools that fill the canyon from wall to wall. When we went, there were about 2 miles of intermittent pools.
The pools change from year to year, depending on what last season's flooding gouged out. May 2001 the deepest were just over waist deep on me (I'm 5'4"). The water is murky brown so you can't see the bottom. You need trekking poles or some kind of probe to help you feel ahead so you won't step into holes. Some hike descriptions mention "the cesspool" or talk about disgusting, smelly, foul water. All we experienced was brown opaque very cold water (the kind of cold that makes you gasp when you step in). No smells. No rotting vegetation. The pools are usually strung together in some of the deepest, darkest parts of the Gulch. That's why the water stays there. It's cold enough that after going through the worst series, all four of our party (including two fit young men) were shivering uncontrollably. You must have a warm jacket to put on once you get through. There are only spots of sun here and there you might be able to rest in. If you're short enough to get your pack wet, the guidebook suggests you carry it over your head (but then how do you balance and probe where to step?) or probe with one hand and hold your pack over your head with the other (since I was carrying 5 quarts of water and 6 days of food and clothes, I couldn't lift my pack with one arm). I chose to put everything inside my pack into plastic bags, and then I waded on through. The pools are not scary, just uncomfortable.
The boulder jam everyone mentions also changes from year to year. In May 2001 it was possible to use a sturdy yellow rope left on the boulders to lower your pack down, and then you could climb down yourself if you are agile and fit. Or you could hand your pack down through a tunnel in the boulders and then lower yourself after it. It helps a great deal if you're hiking with at least one other companion. Again, this isn't frightening or exposed; it just takes time.
The confluence of the Buckskin and the Paria is one of the most amazing, beautiful places I have ever seen. Two canyons with impossibly high, vertical walls, each about 15 feet wide, meet at right angles. It's holy ground. We thought it was so beautiful we spent an extra day nearby exploring the narrows of each canyon.
Where Should You Camp?
The designated campsites on the official brochure come with flat tent spots and sometimes a stone bench. They tend to be near springs. The springs are so good we didn't even filter the water. Nobody would dream of drinking from the Paria. There are other places you can camp also. The designated spots tend to be prettier, have better cottonwood trees.
The canyon was very free of litter. Take all the recommendations to pack everything out, including toilet paper, totally seriously.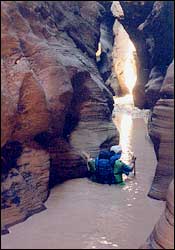 So, After Buckskin Gulch, Is Everything Else An Anticlimax?
I thought it would be. I couldn't imagine that once Pariah Canyon widened out, that it could ever be as wonderful as the Buckskin. But that's not true. Paria has an equal but different beauty. The walls may not be so close together, but they're still unbelievably high, beautifully carved, brilliantly colored. And it goes on for days. Around each new meander of the river is another marvel, another amazing view. Be sure and take the side trip up Wrather Canyon. And step in to see the Hole. And climb around the "abandoned meander." Also, if you come in at the Buckskin, go back upstream to see Slide Rock Arch. The Paria is usually only knee deep at most and almost warm. There are no real obstacles, especially if you choose the high water route near the end of the hike.
The last waterless 12 miles are across open desert. It can get very hot even in May. We got up at 5 to hike in the early morning when it was cool.